remove_red_eye

383 views

comment

0 comments
COMPANY NEWS
New Discussion Groups Virtually Connect Bid Professionals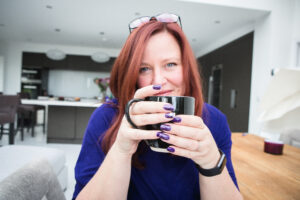 Pippa Birch, founder of Pipster Solutions, recently launched two informal bidding discussion groups via Microsoft Teams: Thursday Throng and Bid Bites. Birch took part in a series of bid calls that were set up during the pandemic lockdown; once those ended, several participants wanted to continue the connection, so she started these discussion groups.
Thursday Throng is a weekly unstructured social space for bid professionals who want to touch base with others and see a friendly face. There is no agenda for these meet-ups, and they take place every Thursday at 12:30–1:30 p.m. BST.
Bid Bites is a more structured discussion around a theme, and it invites participants to provide stories, opinions and tips. These sessions involve a diverse range of roles across the bidding sector and take place the last Friday of every month at 12:30–1:30 p.m. BST.
Contact pippa@pipster-solutions.co.uk if you'd like to join the discussion.
AOC Key Solutions and Patri Partner to Help Companies Win More Business in the $7 Trillion U.S. Public Sector Market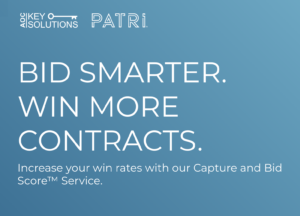 AOC Key Solutions (KSI) and Patri announced a new partnership that combines innovative bid analytics and productivity technology in Bid Score™ with AOC Key Solutions' capture and proposal consulting services to help government contractors win more business.
Learn more about the new Capture and Bid Score™ service.
Harmonic and Bidhive Partner to Streamline Competitive Tendering Process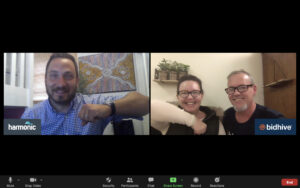 UK management consultancy Harmonic and Australian start-up Bidhive have formed a strategic partnership to streamline and simplify the competitive tendering process. Bidhive has developed a unique software platform to help cross-functional teams manage their bid activity. Harmonic works with clients to win bids more effectively, ensure delivery of consistently high-quality bids and upskill through on-job and virtual classroom-based training and development. The partnership will tap into the expertise and experience of each entity, with the goal of driving forward co-innovations to support enterprise bid teams' digital transformation globally.
Peter Blunden, head of business winning at Harmonic, said, "Our partnership with Bidhive will enable our UK and global customers to work as one team and have rapid access to the right information, at the right time. This partnership is very exciting for Harmonic, working with an outcome-focused, technically advanced team at Bidhive, who perfectly complements our values to achieve transformational outcomes with our customers."
Nyree McKenzie, CEO and co-founder of Bidhive, said, "This is an ideal type of partnership for Bidhive. This collaboration will benefit not only the two companies, but also those who need to bid for work on a major contract and do it in a more agile and effective way with others in their supply chain."
---
Share your people, products and company news on WinningTheBusiness.com.