remove_red_eye

341 views

comment

0 comments
PEOPLE
APMP Welcomes Its 10,000th Member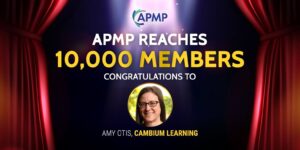 In June, APMP announced that Amy Otis, of the Colorado chapter, became the association's 10,000th member. The milestone comes after continued growth over the past decade and a record membership year in 2019.
Watch the video announcement celebrating this milestone, and read more about the journey to 10,000 in the Associations Now interview with APMP CEO Rick Harris.
CHAPTER NEWS
APMP UK Launches Member Redundancy Support Program
The COVID-19 crisis has increased the rates and depth of redundancies for some members. To support the UK membership, the APMP UK chapter is offering an integrated program of support, both professional and voluntary peer-to-peer.
The Career Clinic includes:
Redundancy coaching
Online resources
Group training sessions:

Redundancy support
Self-employment options
Mental health and well-being

Future workstreams for peer-to-peer sharing (TBA)
If you need support, know someone who does or just want to lend a hand, visit the APMP UK Community Group to share information or ask for help. Learn more about the available support, as well as the application process. Support is available on a first-come, first-served basis for members in good standing of the UK APMP chapter who have become unemployed due to the pandemic.
---
Want to share your people, products and company news? Learn more about what you need to submit.