Working with subject-matter experts (SMEs) can be fun. It can also be a little weird.
That about sums it up.
Those were the words of Cynthia Weinmann, president of Strategy Horizon Consulting, as she opened a session titled "From Frustration to Collaboration: Transform SME Relationships" at APMP's Bid & Proposal Con in Denver, Oct. 10-13.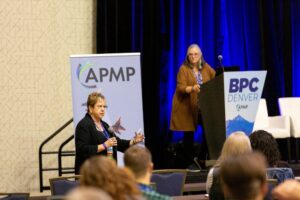 Presenting alongside Weinmann was Debbie Rushing, a manager at the Arkansas Foundation for Medical Care, a client of Strategy Horizon Consulting. To expand on that initial thought, Weinmann and Rushing included the following on one of their opening slides: "SMEs are integral to responsive, compelling proposals. They bring realism and depth to the solution, practical approaches for implementation and credentials that lend authority to the proposal. They also keep proposal professionals up at night."
They went on to give valuable advice on successfully working with SMEs, and they invited attendees to share their stories and tips. Here is their advice.
Make processes and expectations clear upfront. Let SMEs know what will be expected of them, including how much writing you're asking them to do and how many meetings they'll need to attend. Weinmann and Rushing kick off every proposal with a short presentation — 10 slides, maximum — that outlines the project and includes action items for the SMEs. Then they ask for feedback from them.
Define roles. Sure, you're a team, but everyone has their individual duties. As the proposal pro, you run the meetings and add standard content to the proposal. The SMEs provide specialized content and answer your questions. You modify their content as needed and check for compliance. It's best to stick to those roles and make sure everyone understands them.
Respect that SMEs have primary job duties. You might eat, sleep and breathe proposals, but it's important to remember SMEs do not. While providing answers for proposals is part of their job, it's not their primary responsibility. Like everyone else, they must prioritize.
Here's what one attendee said: To put her SMEs at ease, she tells them they don't have to read the whole RFP. Instead, she tells them to go this page and read these four questions. She also provides an estimate of how much time this will take them, which is often less than the SMEs are expecting.
Process and communication are key. Establish timelines, stick to those timelines as much as possible, check in with SMEs regularly and follow up if needed. Regular communication takes time, but it will eliminate delays in the long run.
Streamline processes. This can happen at several points in the proposal timeline that we might not think about right away. For example, one attendee said her organization had been asking SMEs to track their time in an Excel sheet, even though they already tracked their time in the organization's existing system. The proposal team eliminated the Excel sheet and pulled the SMEs' time-tracking information from the existing system. Any little thing we can do to streamline processes will give SMEs more capacity to give us what we need.
Get management involved if necessary. One attendee shared a story about his company's SMEs, who weren't returning the proposal team's calls and emails. When the company lost a major client, several people wanted to blame the proposal team. However, a consultant looked at their proposal and proposal process and concluded the fault lay with the SMEs. One of the company's executives stepped in and told the SMEs that, from now on, when the proposal team contacts them, they should give the proposal team what they want and give it to them quickly. There have been no problems since.
Debrief for future improvements. After the proposal, if you don't win, do a root cause analysis on why you didn't win. Use the results of your analysis to inform training for the proposal team and SMEs. Make it clear to the SMEs that this training is essential if they want the organization to acquire and retain customers.
Collaboration is learned. If you're not collaborating well, don't give up. It takes repetition and refining of processes. "Teamwork is work," Weinmann and Rushing said.
Teamwork is work. That's a good mantra that SMEs, proposal managers and proposal writers would do well to remember.
This session took place at APMP's annual Bid & Proposal Con. Save the date for next year's conference, scheduled for May 22-25 in Dallas, Texas.
---
Dave Nelsen is a proposal writer and editor at Dragonfly Editorial.