remove_red_eye

1348 views

comment

0 comments
Proposal managers live in the world of data-driven performance, but proven best practices can be hard to come by. So how can you decide where to invest your time and resources?
New research from Loopio's 2021 RFP Response Trends & Benchmarks Report reveals how top performing proposal teams win more than 51% of their RFPs. The annual report, which surveyed more than 650 RFP responders across North America, includes data-backed strategies that can be used to boost win rates, improve proposal quality and make the right investments.
Here are seven ways to improve your RFP process and become a top performer in 2021.
1. Regularly measure your RFP process.
For proposal managers striving to become a top performer, start by examining your team's current RFP process. Ask yourself (and your team) the following questions and see how your current process stacks up against industry benchmarks.
What is your department's biggest challenge? Assess using metrics on RFP volume, quality or speed.
How does your win rate stack up? The average RFP team wins 47% of their bids and top-performing teams win more than 51%.
How well does your team collaborate remotely? 44% of RFP teams surveyed say collaborating with internal subject-matter experts (SMEs) is their biggest challenge. Consider tracking how many SMEs are actively engaged with your RFP projects.
Can you automate some tedious RFP tasks? 69% of top performers use response software to take care of the busywork that comes with RFPs. Think about measuring the turnaround time for each bid to assess this effort.
Answer these questions, then compare your results to the industry benchmarks to understand where your team is succeeding and where you should make improvements. Be sure to share these findings with key stakeholders, including senior leadership and sales teams, for input. Then, use those insights as your team's guiding light for process updates in the year ahead.
2. Front-load your focus: Adopt a go/no-go process.
It's common to think responding to more bids is a straight shot to success, but that's not necessarily the best approach.
Instead, try to assess customer fit upfront before investing time in an RFP response. Research shows that 72% of top-performing response teams use a go/no-go framework to assess their odds of winning.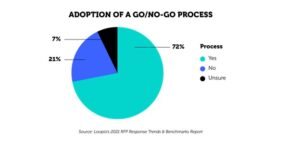 Using a standard scoring system for every potential pursuit helps proposal managers quickly decide which RFPs to take on and which ones they should leave behind. Your team should consistently assess important factors including client relationship, project insight and team availability.
3. Involve more collaborators (it'll strengthen your responses.)
Research shows that organizations with larger response teams and more contributors are more likely to have higher win rates. This is likely because including a broader range of insights and knowledge from across the organization increases the quality of your answers. On average, top-performing teams involve 10 stakeholders in every RFP response.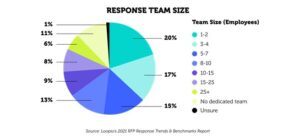 Response teams reported increased collaboration challenges in 2020 (likely connected to more teams working remotely).
And when asked how the RFP process could be improved, the top suggestion (44%) was requiring SMEs to respond to requests in a more timely fashion. So, if you're hoping to improve your proposals and response process in 2021, it's important to consider how you can streamline collaboration.
Thoughtful remote communication with team members can also help you become a best-in-class response team. This could include sending multiple reminders, booking extra project meetings or conducting training between RFPs. The more visible you are (and the more you support the team as a whole), the more likely you are to get buy-in from collaborators.
4. Adopt response software.
RFP software correlates with higher win rates: Data shows 69% of top-performing teams use it to respond to proposals. Those using RFP response software also submit an average of 43 more RFPs annually, enjoy better proposal quality, as well as improved efficiency.
Software adoption also has qualitative benefits: It's correlated with more manageable stress levels and higher job satisfaction. The research shows less stressed teams have 5% higher response rates and 10% higher win rates.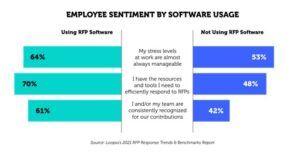 The right RFP software can transform a potential revenue blocker into your competitive advantage, help unlock time savings, improve collaboration and improve proposal quality. Share the research found in the 2021 RFP Response Trends & Benchmarks Report with others in your organization to get buy-in for adopting a new tool.
5. Spend more time writing to improve win rates.
Best-in-class response teams spend an average of two additional hours per RFP response (25 hours total), in comparison to the average RFP team (23 hours total). That extra time can allow proposal teams to develop higher quality custom responses to win that bid.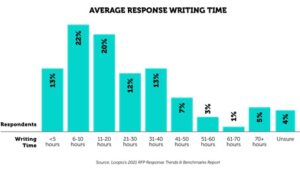 Research shows that proposal managers spend even more time writing than the typical top-performing team (30 hours average per RFP).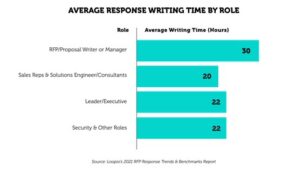 This is where having a searchable RFP library of accurate, pre-approved and up-to-date response content comes in. Proposal managers already spend over 30 hours writing, so having a central location for RFP content (that's easy for other members to access) is key to scaling your responses. With an RFP response library, you and your team can surface the most relevant content whenever needed.
6. Top teams go beyond tracking win rates.
For proposal managers hoping to become a top performer in 2021, mastering metrics is essential. This will help you keep a pulse on your RFP performance and obtain helpful insights to share with your leadership team.
Across all RFP teams, the most popular metrics tracked include new revenue, the number of bids won and the number of bids submitted.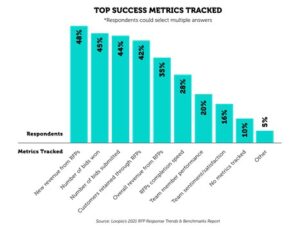 Best-in-class response teams go beyond tracking win rates and revenue. They also capture qualitative measures such as team performance and employee sentiment. This is a key trait of a top performer. Research indicates that a combined focus on process metrics and people performance gives them an edge to winning more bids.
Questions to measure your team's satisfaction:
Which department are you in?
How much time did you spend on this RFP?
Please rate your experience with this project on a scale of 1 to 5.
What would you change about the RFP process?
When thinking through how to improve their process, proposal managers should track both qualitative and quantitative metrics this year. Regularly provide visibility on key metrics for your whole team to help with buy-in.
7. Prioritize new learning and growth opportunities.
Despite economic instability from COVID-19, widespread impact to RFP response teams was fairly minimal. Nearly half (43%) of the more than 650 RFP teams surveyed in Loopio's annual report shared that their RFP resources remained unaffected in 2021, with another 32% reporting actually gaining resources.
When asked what resources they're investing in for 2021, RFP teams report a focus on team training (34%) and investments in new technology (32%).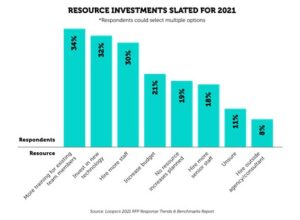 For proposal managers who are tight on budget going into the new year, consider seeking out free learning opportunities.
Read the full RFP management trends report for more details on what's changing — and what's not — in 2021.
---
Kathryn Bennett is the director of RFP excellence at Loopio, a Toronto-based software company that streamlines the RFP response process for companies such as IBM and DocuSign. Loopio serves more than 900 organizations, has been ranked twice on the Deloitte Technology Fast 50™ list and was selected as one of LinkedIn's Top Startups in Canada for two years in a row.

This thought leadership article was sponsored by Loopio.
Loopio's RFP response software helps more than 900 world-leading companies streamline their response process and unleash their growth. With Loopio, teams can respond faster, improve response quality and win more business.