You only get one shot at a great proposal kickoff meeting, so make it count. Good kickoff meetings put the controls and processes in place to efficiently produce the proposal and motivate the team. By the end of a good kickoff meeting, participants must clearly understand the "who, what, when, where, why, and how" of efficiently developing the proposal and be prepared to start work. 
So how do you hold the ultimate kickoff meeting and mitigate typical challenges? Well, you can get there in five easy steps. 
Step 1: Do as much pre-work as possible 
Before the customer releases the request for proposal (RFP), do as much groundwork as possible. Table 1 presents an exhaustive list of activities that you can pick from to accelerate your preparedness. We categorize the tasks into six groups:   
Kickoff meeting planning

 

Proposal planning and execution

 

Administration

 

Capture

 

Writers' package development

 

Business volume

 
These materials listed in Table 1 may be in any state of maturity upon release of the RFP. A proposal manager (PM) may have to start from scratch in the worst-case scenario or inherit a mature set of documents under the best-case scenario. Developing templates or prototypes for these documents is a good idea (as time allows) to accelerate their preparation. 
Table 1: Exhaustive list of materials to pick from for planning a kickoff meeting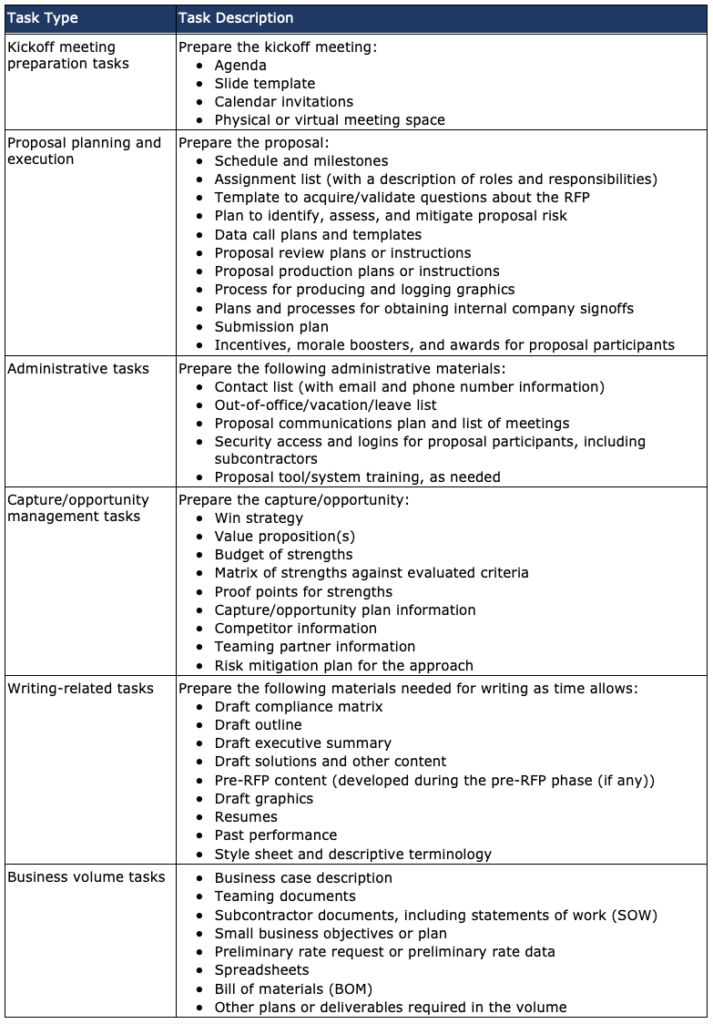 Step 2: Post-RFP release, conduct planning and prepare the kickoff packages 
The Proposal Manager (PM) orchestrates the post-RFP-release kickoff meeting planning process with assistance from the capture/opportunity manager (CM). The PM may also seek assistance from company executives, contracts managers, subcontracts managers, writers, and subject matter experts (SMEs), as needed. 
During this period, there is always pressure to hold the kickoff meeting immediately following the RFP release. Don't bend to that pressure! The Association of Proposal Management Professionals (APMP) Body of Knowledge (BoK) recommends scheduling a kickoff meeting about 15% into the response timeframe. No matter what timeframe you are working under, try to produce a mature kickoff package that gives your team the controls and direction needed to perform their job effectively. The kickoff package typically includes the items from the proposal planning, administrative, capture, writing, and business volume tasks listed in Table 1. 
Most PMs plan and hold separate meetings for the business volume. In addition, they often hold separate meetings for prime and subcontractor participants to protect proprietary strategy and data. They also set up security controls within the content management systems to limit access to business volume data based on each team member's role. 
Step 3: Disseminate information to participants before the kickoff meeting
Immediately after the customer releases the RFP, try to disseminate the RFP and readily available materials (Table 1) to support the kickoff meeting. Give participants enough time to digest the materials and formulate questions before the kickoff meeting. A good rule of thumb is 48 hours before the meeting or within 5% of the proposal's total duration. During this time, verify that all participants can access proposal-related materials commensurate with their role(s). While waiting to attend the kickoff meeting, participants can read the RFP and formulate questions for the customer's review. 
Step 4: Conduct the kickoff meeting
The PM invites all staff involved in developing the proposal to the kickoff meeting. By the end of the meeting, meeting attendees should clearly understand what part of the proposal they are responsible for developing/supporting, how they will develop it (either alone or as part of a team), and when they must submit their work and report their status. During the meeting, they must learn about the proposal's win strategy, value proposition, and strengths. Table 2 presents a typical kickoff meeting agenda that provides participants with the information needed to accomplish their proposal duties efficiently. 
The kickoff meeting can last anywhere from 15-30 minutes to a few hours, depending on the proposal's size, scope, and complexity. On average, the meeting lasts 30 to 60 minutes. The PM may decide to hold subsequent meetings for specific proposal sections so attendees can drill down on their responsibilities. 
Table 2: Typical kickoff meeting agenda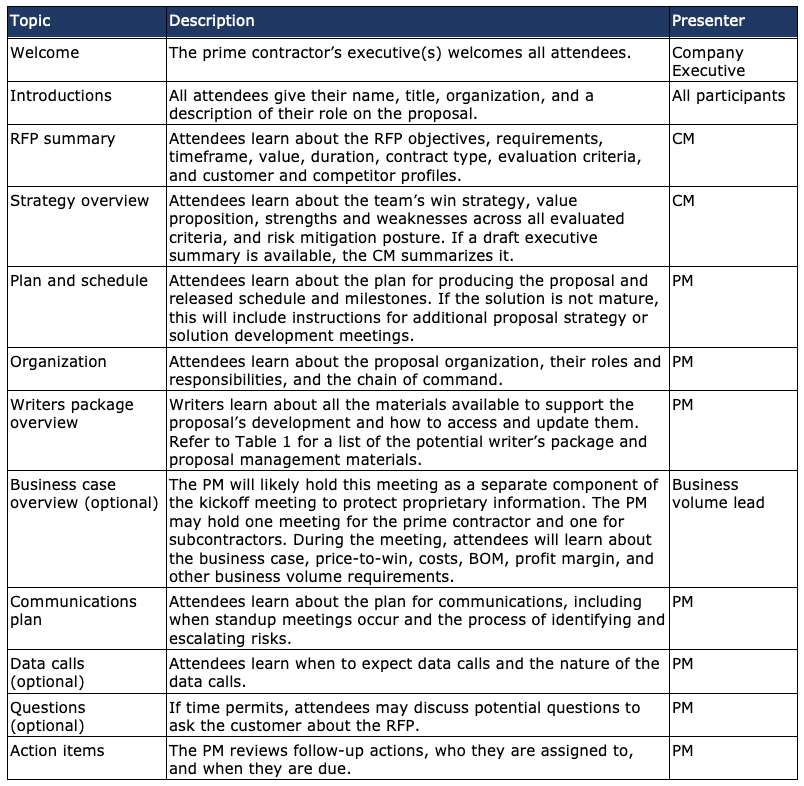 Step 5: Complete kickoff meeting follow-up actions
After the kickoff meeting, the PM sends out action items and follows up to verify that action items are completed before the next proposal status meeting. Typical action items include helping new participants acquire access to systems, providing system training, and setting up all meetings identified in the proposal schedule and milestones. 
Common kickoff meeting challenges and how to overcome them
The transfer of operations from pre- to post-RFP actions is challenging, and an informative kickoff meeting can help mitigate many challenges, as described in Table 3. 
Table 3: Pre- to post-RFP transfer challenges a kickoff meeting can help mitigate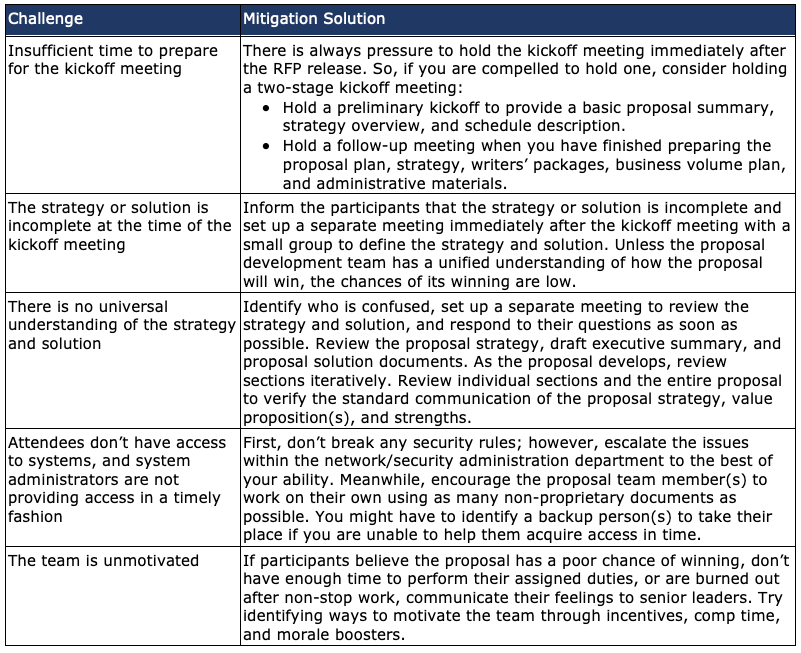 In summary, good kickoff meetings put the controls and processes in place to efficiently produce a winning proposal and motivate the proposal team. By following the five steps described above, you can accelerate proposal progress and mitigate challenges associated with a weak turnover upon RFP release. 
To read more about holding the ultimate kickoff meeting and other proposal management and capture management articles, visit www.LohfeldConsulting.com.