As a headline sponsor at the BPC Europe 2022, I had the pleasure of attending their annual APMP event in Amsterdam last week. BPC Europe is APMP's signature event in Europe which features industry education and explores cultural differences in bidding.
As a newbie to BPC, I was struck by the inclusiveness and enthusiasm of the participants at this particular event. This isn't surprising considering we've missed out on face-to-face meetings for 2 years coming out of the pandemic. Still, there seemed to be a collegial atmosphere and team spirit among all these industry professionals gathered from all over Europe. I quickly picked up on their common goal of wanting to do their job more efficiently, with an eye on how they can return additional value to their organization.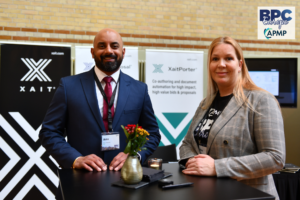 APMP's (Association of Proposal Management Professionals) mission is to be the trusted leader of an international community of bid and proposal professionals by promoting personal growth and development, certification, networking, and expert industry education for the bid, proposal, tender, capture, sales and business development communities. 
There are many reasons why you should attend an industry conference such as APMP: invaluable networking time, new partnerships, new perspectives, and the list goes on and on.
I managed to sneak a peek at some of the sessions as well, I particularly enjoyed Christopher Kaelin from CSK Management speak about how to write a compelling Executive Summary. Other speakers included the keynote, Jos Dirkx who taught the audience how to properly communicate, Ellaine Gillam, proposal coordinator from Google and Peggy Herman from BEE4WIN.  Be sure to look them up and check out the slides from their presentations.
If you're interested in BPC Europe, APMP also hosts an American conference for bid and proposal professionals. At BPC Dallas, you can even earn a Foundation Level Certification in one day! In addition, you can attend preparation courses for APMP's higher certification levels, which is the global standard for developing and demonstrating proposal management competency. Check out APMP's website for more info on these certifications.
If you are like me, you will really enjoy learning from various industry professionals and taking part in valuable bid and proposal discussions during a BPC event. Xait has been a sponsor for many years, with the intention of helping clients win more business by supporting their sales enablement efforts from quote to contract. During this 2-day BPC conference in Amsterdam, I found that many of the attendees seemed genuinely interested in learning more about Xait's co-authoring tools. Specifically how they can help simplify and streamline proposal production processes in order to close more deals in less time.
I really look forward to attending the next BPC event! Something tells me it will be even bigger and better than the last😁
About the Author
Xait is a global Technology Company that provides enterprise customers with software for document automation, collaboration, and complex pricing. Xait provides companies with enterprise-grade software solutions for co-authoring, automation, and intelligent pricing. It's the company behind XaitPorter, XaitProposal, XaitRFI, and XaitCPQ. These are softwares that help customers win business by supporting their sales enablement efforts from quote to contract and lets co-authors focus on creating bid-winning content.
Nina Bauer is the Customer Success Manager at Xait. She brings 20+ years of experience in business consulting, project management, sales, and marketing, in addition to bid and presale. Bauer currently holds the Vice President position in the Norwegian Computer Society as well as in the Program Committee for Girl Geek Dinner Stavanger. Nina has a passion for networking. When she is not with clients or on networking events, she spends time with her family on their boat or traveling to new places around the globe.