The life of a bid professional can often be a lonely one; the late nights and pressure, the occasional sense of isolation when you feel like you're the only person in the world who cares that much about document formatting.
The past two years of the pandemic have compounded that sense of isolation, so it was a real joy to attend BPC Europe 2022, my first in-person work event since 2019 and my first event as an APMP qualified professional.
Held in vibrant Amsterdam, I spent a wonderful couple of days connecting and learning with new people from all over the world under the grand arches of the Beurs van Berlage.
I achieved APMP Foundation certification in 2021 so had never attended an event with my professional peers, and what struck me over the course of the conference was the universality of the bid experience.
Daniel Heuman's session on 'How to Produce Winning Proposals Faster' in particular gave me an unexpected moment of clarity. Daniel's slide on the challenges of collaborating with multiple SME's and stakeholders drew a collective sigh from the delegates and I realized that no matter the industry, bid professionals share the same challenges, the same frustrations and we all want to overcome them.
Another stand-out session for me was David Gray's presentation on 'How to Build a High-Performance Team'. I was expecting a more literal presentation around building the right bidding team, but David surprised me with an inspirational session on good leadership, kindness, and psychological safety. David's simple slide of Scrabble tiles spelling out 'You Are Safe Here' will stay with me for a long time, as will his lessons on sharing mistakes and viewing smaller milestones of the bidding process as something to celebrate.
I was hugely grateful for the generosity of the speakers and the time they took after their sessions to speak one-to-one with me and other delegates.
The overwhelming sense I felt during BPC Europe 2022 was that whilst all delegates came from vastly different industries, we share the same challenges and the same celebrations. I've come away with actionable ideas to enhance my team's bidding processes and most crucially, I've come away feeling part of a great community and proud to be APMP.
About the Author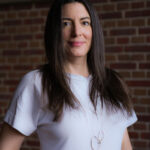 Lizzie Bonito CF APMP
Senior Bid Management Specialist – Synamedia