Lasting changes from the Covid pandemic and emerging economic pressures are changing the way proposal professionals work. But some things never change: Proper approaches to people, processes, and tools can make proposal operations effective, regardless of industry, size, or changing situations.
More than six dozen proposal professionals gathered in October 2022 at the APMP Western Chapter's conference in Anaheim, CA, and discussed the changes they are seeing and the solutions they are deploying. As they talked, they recorded notes and key points in a real-time, online system. This article is a synthesis of the trends, complaints, tips, and hacks that the participants shared.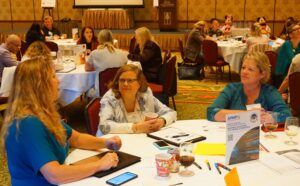 What is changing
As work moved online during the pandemic, the last holdouts for hard-copy proposal submission were forced to receive and review proposals electronically. This has had ripples on the requests for proposals themselves. In some sectors, customers are issuing more RFPs in spreadsheets rather than in word-processed forms, and they are asking for more detailed budget information.
In response, proposal centers must change what they do and how they do it. Success often depends on making the case for the value-added of an entire proposal center and of new investments in tools and personnel. This evolution is occurring during a change in the workplace itself, which can make it more difficult to recruit and retain quality staff.
It starts with the right people
The pandemic pushed many workers to the sidelines or into retirement, and those who stayed in the workforce often felt isolated working at home. Across industries, the discussions emphasized the importance of engagement to keep a good proposal center together. Recommendations included setting up pathways to promote proposal writers and managers from within, and deploying that proposal staff properly. Proposal people shouldn't be treated like secretarial staff, nor should they be expected to write content that should be coming from subject matter experts. Employers and supervisors should respect their workers' personal needs while working at home – and while not working.
Some industries, such as health care, have annual cycles and can predict when proposal activity will peak. The less busy times can be used for training and for improving systems and processes so everyone is ready for the peaks.
Process makes it possible
Organizations with well-established and well-enforced processes do a better job of traveling from opportunity to successful bid. But processes are living things; when a better way to do something becomes apparent, it should be shared, developed, and ultimately implemented in a way that contributes to success.
Part of successful processes is a strong go/no-go milestone. Too much time is wasted when a decision is delayed, and the quality of the proposal suffers as later stages of the process are compressed.
Agile proposal processes deserve attention, but they might not be right for every opportunity and every proposal team. Aerospace proposal managers, for example, noted that some engineers have difficulty with the scrum-and-sprint format. If an organization is going to commit to a formal agile process, management must buy in and support the format. Communication is essential: Don't just tell the team that this is how the proposal will be done, tell them how it works and why it adds value.
In smaller shops and sectors such as higher education where the proposal office is more of a free-standing service center, it can be valuable to write out a scope of work with the internal "client" so everyone knows what to expect and when things must be done.
The right tools for the job
Depending on size and sector, proposal management tools range from relatively simple spreadsheets and shared drives to customized project management systems. The higher-end systems now are integrating RFP parsing, compliance matrix development, acronym list development, content management, schedule management, metrics, and reporting so management can keep every project on track and document how effectively work is getting done. Cloud-based systems let all participants see what they need.
These tools are powerful, but not inexpensive. Proposal managers sometimes find it challenging to make the case for investment in powerful tools. They can be successful by pointing out that content itself is changing, with more pictures, spreadsheets, and other formatted material, and by pointing out the time they can save in searching for these resources when the clock is ticking