remove_red_eye

2643 views

comment

0 comments
Thank you to all who attended the APMP's Bid & Proposal Con last week. We're grateful that so many of you made the trip to San Diego to connect, learn and celebrate with APMP. It was our largest Bid & Proposal Con to date, with 1,027 members from around the world. We still can't believe it is over just two-and-a-half days after started.
As many of you know, we rolled out a new education format this year, with our members driving more of the agenda. We had 40 member-suggested sessions and we hosted more panels and interactive sessions than ever before.
Based on the response we've received so far, it worked. Our members shared, opined and delivered content that led to more networking, camaraderie and deeper discussions – the hallmarks of any good meeting.  We appreciate you taking a chance and trying something new.  We're also listening to tweaks you suggested so we may perfect our speaker sessions in Orlando in 2019.
More "new" will be on the way. We talked to many members during the conference and collected important feedback about how we can improve and expand our future APMP services, particularly around our certifications. Anticipate information about new, innovative ways to become APMP certified in the coming months.  We are excited about  APMP certification in the future and hope you will be too!  2019 will be a huge year for certification.
Speaking of certifications, a heartfelt congratulation to those who passed their exams on Certification Day. An amazing 128 individuals earned APMP certifications at the Foundation, Practitioner and Professional levels. We are very proud of you all for taking the next step in your careers and committing to APMP best practices.
One of the graduates included Tracie Bretecher of Long View in Canada. She became the first ever  Canadian to earn an APMP Professional certification  – a new milestone for APMP and its Maple Leaf Chapter.   Congratulations Tracie for being a pioneer and a bid and proposal role model.
During the conference, our board also approved a certification scholarship to honor our own Charlie Divine, APMP's recently retired director of certification. Starting next year, we are launching a program where each chapter will be invited to nominate one member to receive a complimentary scholarship toward any level of certification through the newly established Charlie Divine APMP Certification Scholarship program.
Charlie will work with the board of directors to establish a set of criteria and will award the first scholarships next year in Orlando. We're excited to see his legacy endure in a way that also advances our members' careers and contributes to their professional development — something Charlie championed in his 40 plus years in our industry.  Details will be sent this fall alerting our chapters how their members can qualify for the annual Charlie Divine APMP Certification Scholarship program.
We also launched winningthebusiness.com, which is our "re-imagination" of the APMP Journal. It's a new website dedicated to the bid and proposal profession, with news and feature stories to help you with the work you do daily. We'll update the site often, so check it out. And if you grabbed a mug at Bid & Proposal Con, don't forget to email your winningthebusiness.com "mugshot" to Rick Harris for a chance to win cool prizes.
Finally, a well-deserved thank-you to the staff and volunteers who produced such a tremendous, professional event. While members were taking exams and engaged in sessions, there was a lot going on behind the scenes to support the content, provide opportunities for networking, and create a friendly atmosphere. Well done.
And, fair warning: This year's conference sold out six weeks in advance, as did the hotel and the exhibit floor. So be on the lookout for 2019 information soon. You'll want to make reservations for Orlando fast!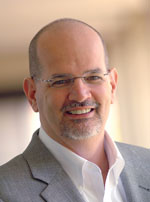 Rick Harris, CF APMP, is the Executive Director of the Association of Proposal Management Professionals. During his tenure, the association has nearly tripled in size and now serves bid and proposal professionals around the world. He can be reached at rick.harris@apmp.org.