As a Bid professional, I interact quite often with fellow Bid professionals from many organizations, with their roles ranging from proposal writer, account executive, solution lead, proposal manager, sales lead, engagement manager to even higher. Many times, our social chit-chat moves to business chit-chat, and I can't resist asking this question: 
What do you regard as the most important document in the proposal cycle? 
Then comes the reply: "Executive Summary." 
I shoot the next question: 
How much time does your proposal team devote to writing the executive summary? 
I have seen this question eliciting widely different responses: befuddlement, vacuous smile, random numbers, hypothetical numbers, and rarely something that is convincing enough.  
Ironical. Isn't it?
Hundreds and thousands of executive summaries are being churned out every year from service providers of all sizes and reputes. Despite bid professionals agreeing that its the most important document in the proposal cycle, executive summaries are often regarded as an afterthought and not properly integrated into the bid cycle. What is even more surprising is that most Bid persons possess APMP, Shipley, and other internationally recognized certifications and have the required expertise to write effective executive summaries. 
This triggers a pertinent question. If most are seasoned professionals and know the criticality of the executive summary, what are the factors that inhibit the creation of the right-quality executive summaries at the right time by the right set of people? 
It is time to dig deeper
Let's see how an ideal process of creating an effective executive summary differs from what happens on the ground. Irrespective of the organizations you are part of, in essence, the scenarios will most likely look familiar: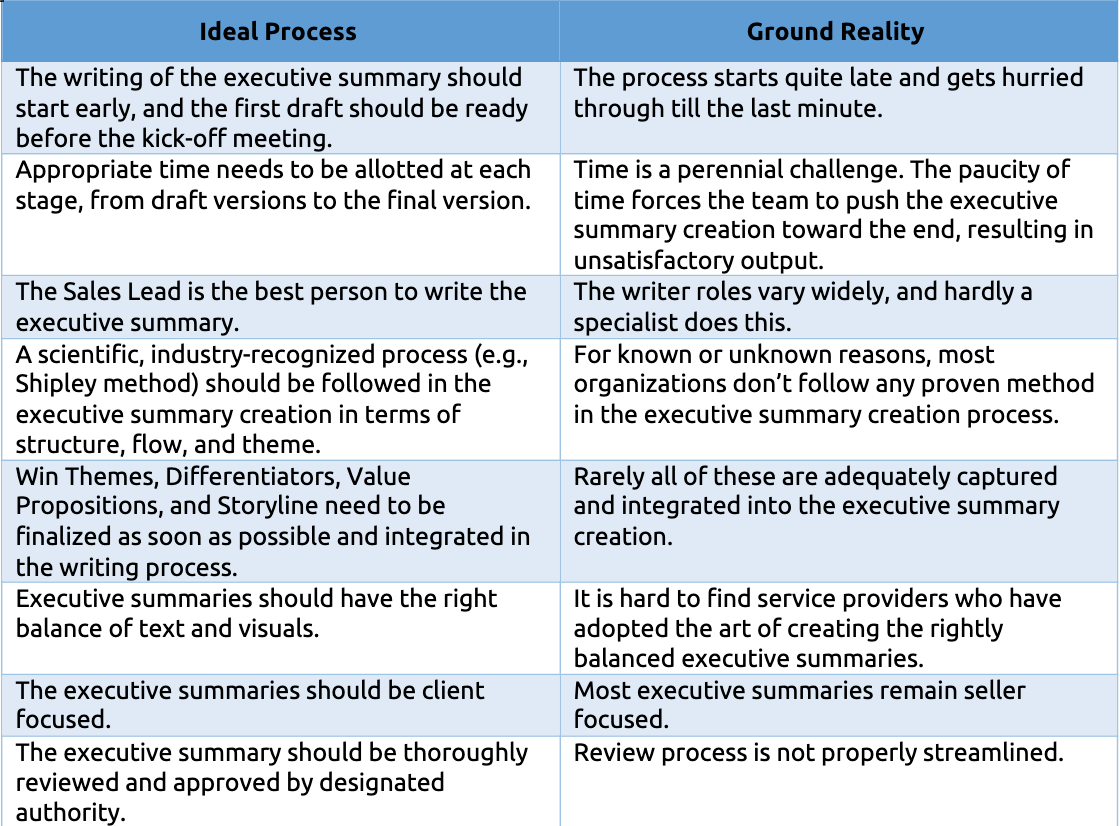 Those who have reached this point will like to see a structured reference guide that helps in creating an impactful executive summary. Here is a guide, but note the stages are fully customizable as per the need of your organization: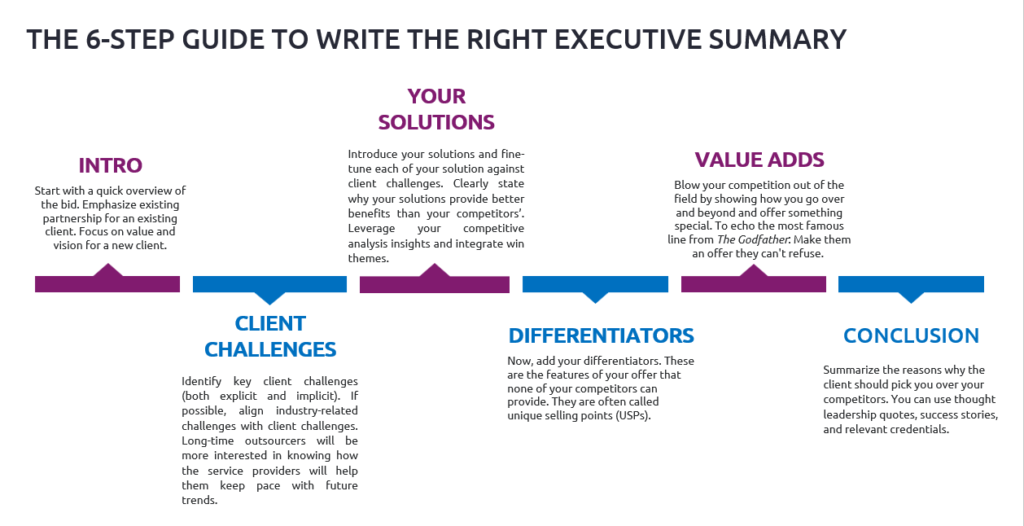 If anybody is still wondering why a guide is necessary to write an executive summary, remember that this is the only document that decision-makers (mostly non-technical persons) read (in scanning mode). The only way to draw their attention is to create scientifically structured, visually engaging executive summaries.     
The next focal point for you should be: 
Hang around time
This is a coined term by me, which essentially means the amount of time you can keep your audience hanging around your executive summary. The longer they hang around, the more chances you will have to influence, persuade, and motivate your audience. How do you measure the hang around time? There is no formula. Try creating executive summaries by following the steps mentioned above and circulate them as part of mock drills in your internal setting with high-level stakeholders. Once you start seeing positive, unbiased, and unambiguous responses, soon you will get enough confidence to try this with the decision-makers from the client side.   
Regarding the preferred layout of an effective executive summary, there is no fixed standard, but industry-recognized standards like Shipley's has gained more traction. However, as per feedbacks received from the stakeholders who worked with the Shipley layout (on left in the below figure), they faced some formatting and alignment challenges. Also, when there is strict page/slide control imposed by the client, the 1/3rd 2/3rd format is not preferable. For an alternative version, see the right side of the image. I am curious to know your input on this point and see other alternative layouts.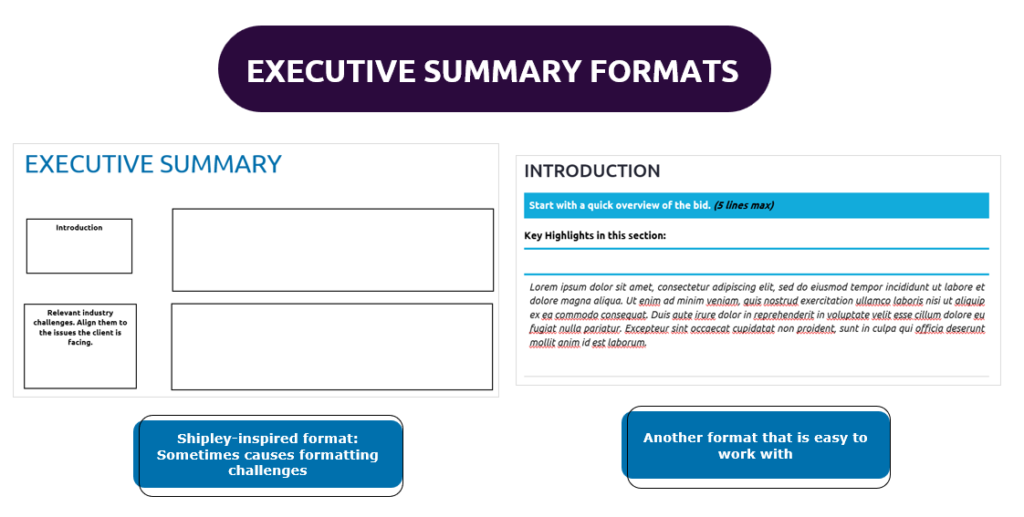 Congratulations if you have completed this article! I believe this article will help you in creating executive summaries that have a harmonized storyline, are simple in structure but impactful in language and style, have the required balance in visuals and text, and are "built to win." 
Author Information:
Ayan Dey is an experienced presales professional, writer, and editor with 15+ years of work experience in publishing, media, consulting, and outsourcing industries. Some of the key organizations Ayan worked are Infosys, IDC, and Macmillan. As Capgemini Business Proposal manager, Ayan is helping to create winning executive summaries.