remove_red_eye

1413 views

comment

0 comments
Once upon a time, doing good in the world and doing well in business were mutually exclusive goals. However, today, this is no longer the mindset. In the U.K., the notion of businesses being a force to help transform communities and people's lives has been elevated through policy and directives such as the Social Value Act and the U.N.'s Sustainable Development Goals. These call on public sector bodies to consider how they can secure more economic, social and environmental benefits when procuring goods and services. They encourage them to incorporate social value in supplier selection and contract management. More recently in the U.K., the Procurement Policy Note 06/20 mandates central government procurement to explicitly evaluate for social value with standardized award criteria, metrics for contract management and delivery objectives.
Social value is the all-encompassing and quantifiable positive impact a project has on society. This impact includes economic, environmental, societal and well-being benefits, and it places people at the heart, focusing on areas that are important to society. It's no longer a public image boosting exercise or activity to generate positive PR, and industry is asking itself where it can increase its commitment and investment in social value, rather than debate the value of it.
Increasingly, customers are adopting socially responsible practices. To comply with government legislation, they are transforming their organizations to embed social value in all their activities, and it's of serious commercial and social importance because now it can be the difference between winning and losing.
The Challenge
Customers want to maximize the positive impact of their procurement by taking full account of the value their supply chain can offer, including social, environmental and wider economic considerations. They want you to propose, generate and measure social value through bidding, winning and delivery. These social benefits you generate have a greater influence on the way you win and deliver work.
So, what is the challenge you face? The challenge is to influence the way in which you win work by: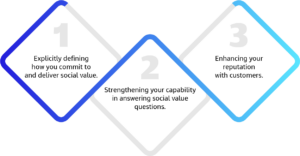 Explicitly defining how you commit to and deliver social value: Ensure you have an externally visible and energetic commitment to social value. It should be treated as a core business goal with sponsorship at the executive level and not as a public image boosting exercise.
Strengthening your capability in answering social value questions: Social value questions are appearing more frequently in tenders. Customers are now evaluating for it with a greater emphasis and an increase in their weighting (minimum of 10% of the total score) to ensure a differentiated factor in bid evaluations.
Enhancing your reputation with customers: For your customers, it matters where they spend their money and time. They want to align themselves with organizations that promote their values and demonstrate an explicit and defined commitment to social value.
Partnering
How can you overcome this challenge? How can you transform the way in which your business commits to and delivers social value? One way to achieve this is by collaborating with intelligent partners who are leading organizations that can co-design, co-create and co-deliver part of your social value program — a program with defined goals and strategies that is built on your existing inclusion and diversity strategies, and based on shared values and positive goals. The program should be an authentic part of your organizational culture and include new professionals, and it should address COVID-19 recovery, economic inequality, equal opportunity, STEM and well-being.
Identification of these partners depends on the location where the contract is being delivered and the needs of the community. Developing organizational links with the councils and charities where your contract is being performed and collaborating with the third-sector organizations will provide access to such partners. Voluntary, community and social enterprises (VCSEs) are ideally placed to help deliver social value, and harnessing relationships with them ensures you will be ahead of the game. The U.K. government is committed to bringing more VCSEs into the market, and they will often be found engaging early with commissioners and at bidder events.
Building a relationship with a recognized and respected partner provides access to their social value subject-matter experts, allowing you to deliver a broader, more adaptable range of social value services and to discuss with your clients their problems and generate solutions. They can work with your bid teams, adding demonstrable value and help you develop proposals where you can clearly articulate to your customers the true social value you will generate.
Leveraging the association with your partner's brand, you can enhance your reputation (locally and nationally) with customers, external organizations and the communities in which you operate. A long-term relationship means it's sustainable, and you can generate social value through bidding, winning, delivery, benefits realization (short and long term), lessons learned and continuous improvement.
Benefits
How do you benefit from such a partnership? Through the creation of a dynamic and sustainable partnership, you can create compelling and competitive social value solutions that help transform people's lives, while playing a catalytic role in the regeneration of local economies and communities. With a tailor-made approach, ensuring strategic alignment with the goals and values of your organization, the benefits include: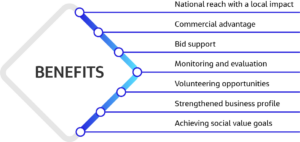 National reach with a local impact: You gain an established presence in cities and regions across the nation with extensive local knowledge and insight, leveraging teams who work closely with local commissioners to develop programs that respond directly to local needs.
Commercial advantage: Your organization maintains and strengthens its differentiated position in the industry, demonstrating to everyone that a committed and viable approach toward social value has been adopted.
Bid support: There's a committed team to work with you on bid preparation, including quantitative and qualitative data, case studies and reviews.
Monitoring and evaluation: Through life support during the delivery of your contracts, providing data on success and progress that can be fed back to customers.
Volunteering opportunities: You'll foster employee engagement, satisfaction, and retention by providing meaningful and skills-based opportunities for your employees to volunteer and engage with their local communities.
Strengthened business profile: This will happen among your existing customers and potential new ones, external organizations, local communities and nationally, allowing you to exploit your partner's brand association and their stakeholders' platforms.
Achieving social value goals: Turn strategy into action and bring your program to life.
By embedding social value in a clear, effective and meaningful way, you'll have the opportunity to win more work while aligning with purpose, values, work and ambition. It's a win-win situation: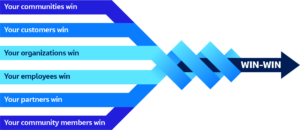 Who loses? No one!
As individuals and organizations, we should embrace social value so that we build back responsibly. We must be good leaders and leaders for all that is good. It is important to invest in your community and provide meaningful and lasting change.
A partnership is something that you may not have considered. Imagine it. Invent it.
---
Zeb Farooq, MBE, FRSA, CPP APMP, is a bid manager with a background in mathematics and more than 12 years of experience in the clean energy and defense sector. He currently works for Jacobs on the strategic sales team, where he assembles and leads bid teams to win new contracts.

---
Want to learn more about the latest in the business winning community in the U.K.? Register for BPC Europe, taking place online July 1.