remove_red_eye

616 views

comment

2 comments
If you didn't know Howard Nutt personally, you surely knew of him and his impact. He was a founding member of APMP. He established Business Development Institute International and its Capability Maturity Model (BD-CMM). He was known for his research-based industry knowledge and dedication to helping others.
Now if you did know Howard a little more closely, you also knew that he loved his classic Triumph TR6 sports car, that he was a skilled woodworker and that his jokes were so bad, they were good.
However you knew him, however you'll remember him, one undeniable fact is that Howard's influence on the business development and bid/proposal industries will be lasting.
Here, APMP members share their favorite memories of Howard, who passed away July 11, 2020.
Ginny Carson, CPP APMP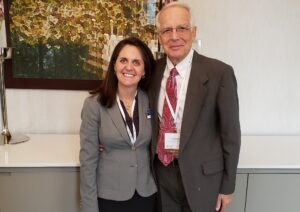 I met Howard in late 2009 when my employer hired him as we embarked on an assessment of our business development practices against the BD-CMM. Anyone could see that Howard had a genuine and complete dedication to his work. He was motivated to discover and document the elements of business development maturity because the material was fascinating to him, but he was also inspired by what the information could do to transform people's ability to succeed in their careers.
Howard's impact on the industry will continue for many decades, I am sure. Any metrics reports generated from here forward must be compared to his thorough studies, reports and presentations. We are all quite fortunate that through his engagement with APMP, his work is well-documented and easily accessible.
What's your favorite memory of Howard?
In 2014, when my husband and I hiked the Grand Canyon, Howard invited us and the couple we traveled with to spend our last night in Arizona in his home. Howard and his wife put together a casual, comfortable meal for us, and they made us feel like family. Howard and I bored the others with our talk about the science of winning business all evening! It was a true pleasure to introduce my husband and our friends to Howard.
---
Nancy Kessler, CPP APMP Fellow
Howard was brilliant. His understanding and insight about business development operations and their relationship to the ability to win were astonishing. He was able to understand and diagnose a client's issues more quickly than anyone I've ever watched, yet he never leaped to judgement, waiting, instead, to have proof of the problem before revealing his understanding.
Without Howard, the Shipley Business Development Lifecycle would never have become the industry standard. The BD-CMM would not exist, and many companies (along with many of us proposal/BD professionals) would not have achieved the successes we did using those tools.
What's your favorite memory of Howard?
Howard had a unique sense of humor and loved telling really terrible jokes. I think he got more pleasure from seeing people's reactions than from laughing at the joke. But when he did get amused, he was helpless. He would start laughing, and the next thing you knew, his glasses were off, and he was wiping tears from his eyes. On a personal level, Howard and I shared the same birthday. Every year, including this one, we spoke on the phone to wish each another a happy birthday. He chivalrously insisted that he was the elder, but I actually got here one year sooner.
---
Paul Deighton, CPP APMP
I knew Howard for almost exactly 17 years. Through his leadership of the BD Institute, the BD-CMM and the Institute's research studies, he showed us that the groundwork for sustainable business-winning success is always a wider organizational effort, and when high maturity approaches are taken, then proposal professionals can have a life away from work.
What's your favorite memory of Howard?
More than a decade ago, Howard and I were working together with another consultancy on a major assignment in Europe, which culminated in a formal presentation at the imposing Allianz Arena, the home of FC Bayern Munich Football Club.
We tried to get Howard to rehearse his part of the presentation but that wasn't his style, and I was a little nervous as we arrived at the stadium to see 200 people assembled in the cavernous stadium briefing room. The three of us duly stumbled through our well-rehearsed presentations, with Howard last to the lectern. With a nod to his earlier career, he slowly, powerfully and charmingly described the road to the client's salvation.
He had saved us, too. He was truly the "grand seigneur."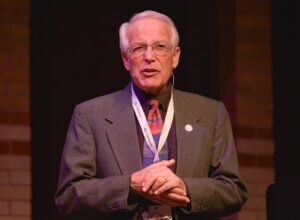 ---
Tony Birch, CPP APMP Fellow
Howard was one of a small group of people who wanted to be able to explain the attributes of those organizations that win business more consistently than most, and he wanted to do this through sound research and analysis. The work that he, and others, did both inside Shipley Associates and within APMP led, ultimately, to the development and publication of the BD-CMM. While many others from the initial team who began the research moved on to do other things, Howard's enthusiasm for the subject drove him to continue to invest all of his time and energy in evolving the model for the benefit of the industry.
I committed to Howard that I would be working with other equally enthusiastic people to ensure that the BD-CMM-related work continues. Howard invested the best part of 20 years of his life [to it], and this is not the end. This is only the end of [this phase of its] journey.
What's your favorite memory of Howard?
I was visiting his home near Phoenix a long time ago, and Howard showed me his sports car that was close to finished being rebuilt. It was a British Triumph TR6, which he converted to left-hand drive and added an American engine. He was so proud of this project and as evidence of his commitment to perfection, he pointed out that the car was parked on a new carpet on his garage floor.
---
Charlie Divine, CPP APMP Fellow
Howard's legacy will always be with me. He created a framework to solve problems and improve individual and organizational performance. I used it to analyze and create solutions in my business world. Built on the framework of commitment, resourcing, performing, measuring and improving, it has improved my personal life as well. I expect I will often think about Howard and his impact on my social and family life.
What's your favorite memory of Howard?
It's more of a collective memory. Howard truly had a vision of the structure of our industry: bids, proposals and, most significantly, business development. He was the professor and the researcher. He was always open to sharing his vision and research with all. I would spend hours with him listening to his thoughts on the key practice areas and structure of business development, and he was always willing to share, explain and answer questions.
Howard was a champion of our industry. I truly believe we would not be where we are today if it were not for his advocacy for our profession and his pioneering work to define success in business development. Always the ultimate professional, he mentored many of us out of chaos to understanding and knowledge. We will all miss our dear friend Howard.
---
Rick Harris, CF APMP, APMP CEO
Even though he was approachable, Howard was an incredibly detailed person. His work with the BD Institute and the creation of the BD-CMM was so groundbreaking and so intricate that I think it might have been above a lot of people (including me, at first). If you dissect what he was doing with the BD-CMM, you knew it was close to greatness. I believe one day, it will be as ubiquitous as APMP's certification is to our industry today, and we all will remember that was due to Howard's work.
What's your favorite memory of Howard?
Watching the way he could work a room. He was a master at networking, and he had friends all over this industry. People were drawn to him because he always had a new thought, promotional angle or idea to promote business professionals globally, without ever hard-selling. Howard understood the power of numbers and how quantifiable research informed business-winning decisions.
The last time I saw him was at BPC Europe in Amsterdam in February earlier this year, where he controlled the stage and the room. I watched in awe. His talk about the BD-CMM was easily the hit of the conference. We had a chance to have a quiet moment after his session, and he told me it was likely the last live talk he would ever give to an APMP audience. I didn't know what to say because I couldn't even imagine it. I am going to miss Howard being on an APMP stage, and I am going to miss all our conversations about BD.