Is your burnt-out team submitting low quality bids? New research from Loopio's 2022 RFP Trends and Benchmarks Report, which surveyed 800+ teams across North America, reveals that stressed teams participate in 5% fewer RFPs, spend seven more hours per response, and have a 6% lower win rate than non-stressed teams.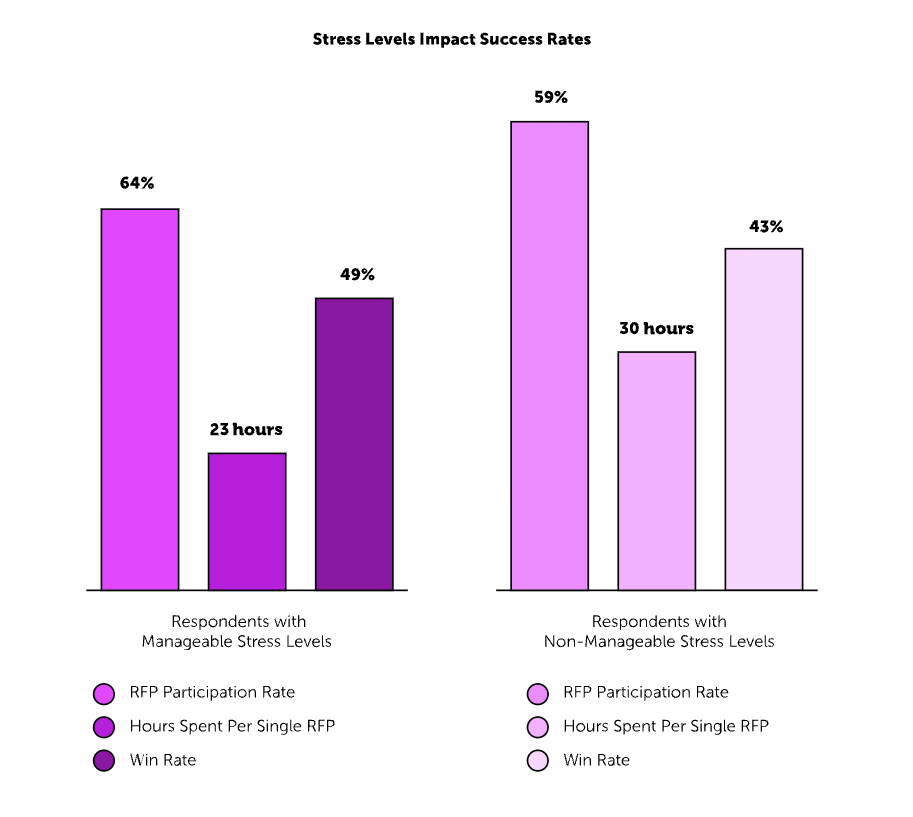 And yet, the majority of teams still point externally when asked why they're losing RFPs, citing reasons like product fit, price point, or a competitive incumbent. When in fact, the biggest culprit could be internal-facing: overwhelmed RFP teams.  
So, if you're wondering why you're not making it on the shortlist, try turning your attention to what you can control: missed deadlines, overlooked details, and poorly written proposals.  
In this article, you'll learn how to improve the RFP process by solving these top challenges seen by proposal teams: 
Improve Collaboration with Subject Matter Experts

Find Up-to-Date, Accurate Information

Stop Manually Formatting Responses

 
Improve Collaboration with Subject Matter Experts
Many RFP teams grew in size this year, with an average of eight members and nine contributors on board for bids. However, adding more perspectives can come with growing pains. Unless you have a streamlined RFP process, it's an uphill battle to build alignment with those involved.   
And SMEs are sensitive to chaos. That's likely why 48% of responders reported collaborating with them as the number one challenge.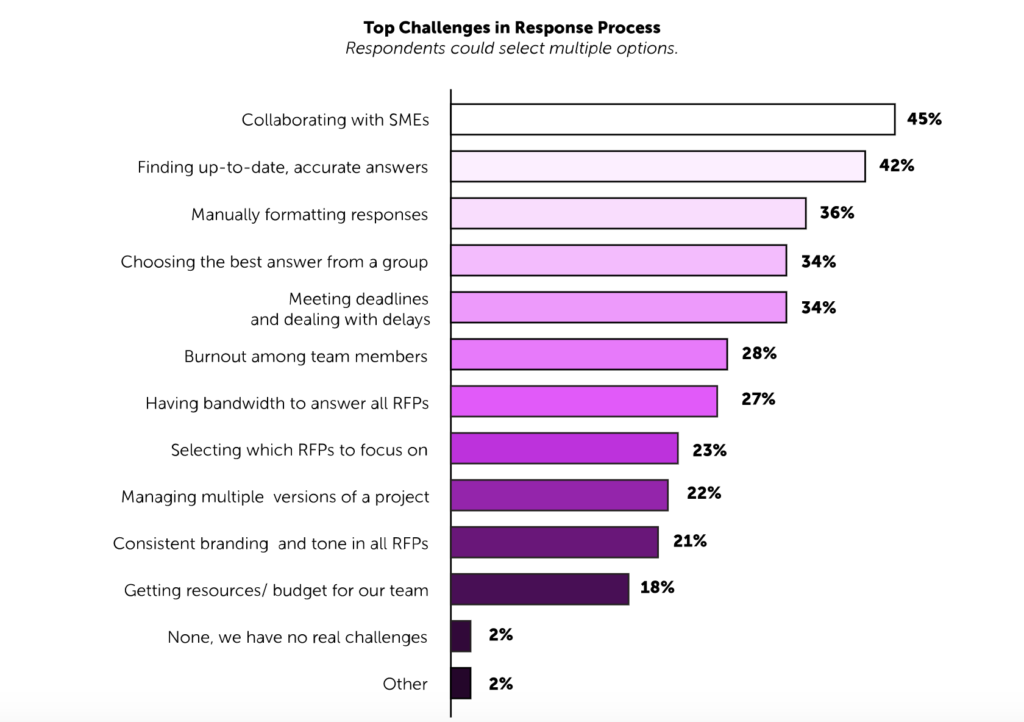 Who can blame either side? Proposal professionals simply want answers but feel like a burden every time they reach out. On the other hand, SMEs have other priorities they can't pull away from for too long.  
How do you prevent unanswered calls and emails, then? Put a proposal manager in charge, someone to:  
Keep the team on track:

With insight into everyone's availability and bandwidth, they can assign deadlines or offer the necessary support.

 

Set clear expectations:

Whenever a new RFP rolls in, they can let everyone know what will come their way ahead of time. 

 

Manage the RFP library:

By recycling winning responses, they can

work with SMEs

only on updates or new questions that require their expertise, not the whole RFP. 

 

Be the ultimate SME:

Proposal after proposal, an RFP manager can learn the answers inside and out–instead of waiting on help from other SMEs.

 
Find Up-to-Date, Accurate Information
Gone are the days of searching for information in an unfamiliar file labeled according to an unknown person's cryptic clerical system. And yet, 42% of responders still say that 'finding answers' is a top challenge in 2022 as documents move to the cloud. 
It's not hard to see why.  
The majority of RFPs have a turnaround time of less than two business days, so every minute spent looking for answers is one less minute spent writing a quality proposal. With files strewn across different platforms or even stored in one accessible place with RFP software, it's clear that the way content is organized could use some improvement.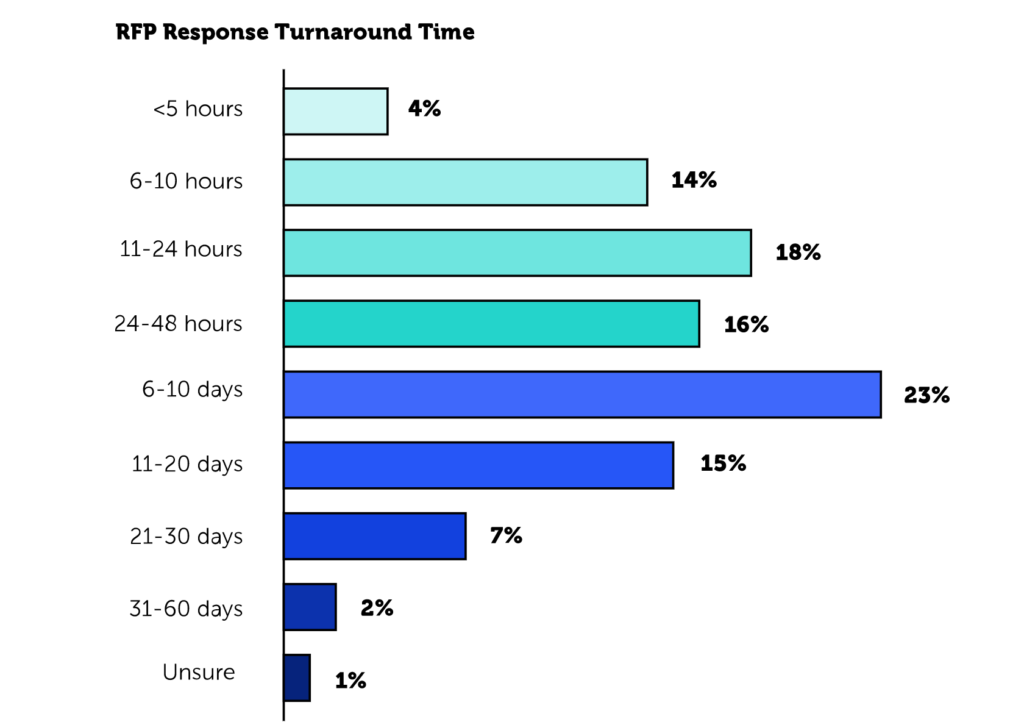 All it takes is a little decluttering to reduce mouse clicks. Loopio's customer education team suggests sorting your RFP library like a filing room. Here's how: 
Plan your library rooms:

Group content into its broadest categories, making sure to lock rooms with secure access.

 

Pick your filing cabinets:

Group content into broad categories–think of your subject matter experts for each topic. 

 

Use file dividers:

Organize content into subcategories, but do so sparingly.

 

File your content:

Place content between dividers, archiving duplicate answers as you go along. 

 

Add labels for clarity:

Group and organize content within subcategories and categories–like a sticker on a document. 

 
To create the best structure for your content, use Loopio's RFP Answer Library Template.  
Stop Manually Formatting Responses
Wouldn't it be a dream if procurement teams had universal submission guidelines? Agree on one: PDF, Word Doc, or PowerPoint. Unfortunately, that isn't the case. But look at it this way; if you can match their unique needs at the bidding stage, it shows them you can do so as their vendor, too. The proof is in the proposal.  
However, manually adjusting responses to a client's desire can be time-consuming. According to the report, 66% of teams lost time to repetitive RFP response tasks, including formatting documents. Just think how much headings and bullet points are taking away from proofreading what matters most–the answers themselves.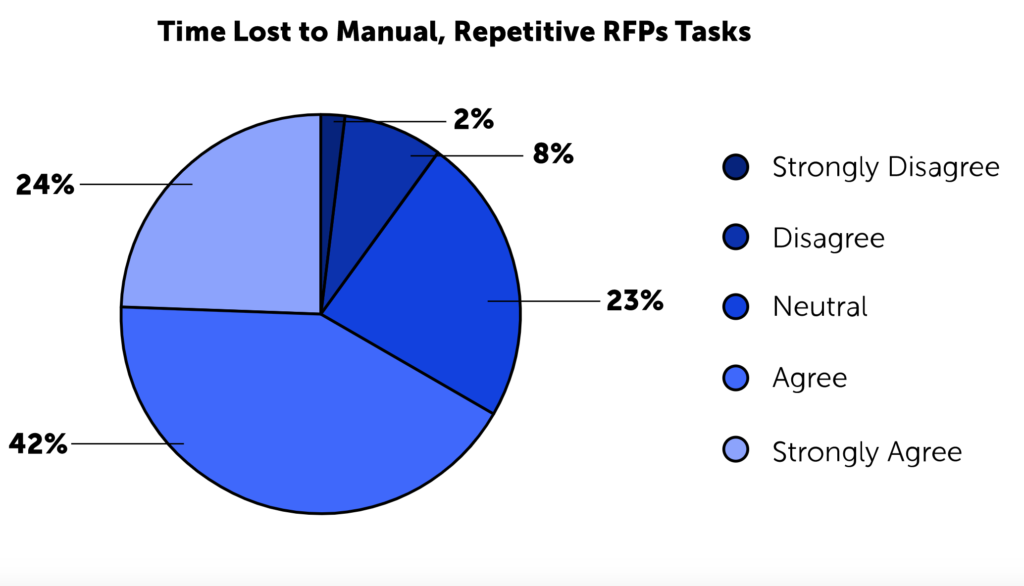 So, how can you meet requirements and deadlines? By getting a headstart with modern proposal templates (even better, auto-filling the answers from your content library). Here are a few questions you should ask to ensure your templates have a polished, reusable look: 
What is your company's brand aesthetic?

 

What visual elements will help the client understand what's on the page?

 

Do you have any charts or graphs to support your claims?

 

Are there ways to co-brand the document to signify the relationship?

 
Less Stress, Higher Win Rates
The good news is that more teams are gaining the resources and tools they need to submit high-value proposals faster–44% to be exact.  
When using dedicated software, teams are much happier with the RFP process, whether it's the overall time it takes to complete an RFP, quality of the proposal submitted, or ability to respond to all requests. Plus, 68% of teams say their stress levels at work are almost always manageable. All thanks to these top benefits: content storage, time savings, and automation. 
The results? Satisfied teams have an 8% higher win rate.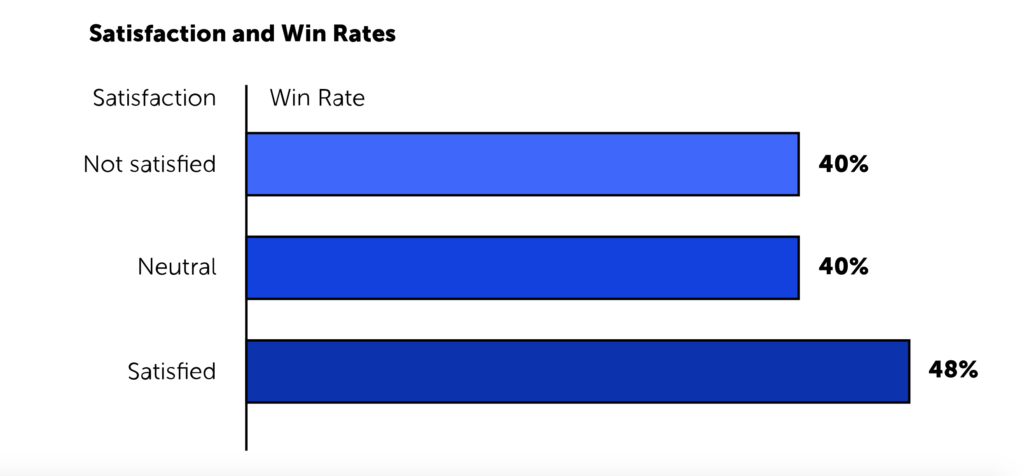 That said, 31% of teams still aren't using RFP software, indicating that they're responding the Wild West way. However, the reasons for not investing have shifted from whether or not it's important to the overall value it brings, meaning companies are warming up to the idea.  
Still, you'll need to get buy-in to secure a new solution. So if you're building a business case, send leadership the 2022 RFP Trends and Benchmarks Report and show them this proof: process satisfaction leads to higher win rates.  
About the Author
Maggie Garratt is a Sales Response Manager at Loopio, a Toronto-based software company that streamlines the RFP response process for companies like IBM and DocuSign. With 7 years of proposal writing experience, she loves sharing her passion for technology and driving change through innovation.

This thought leadership article was sponsored by Loopio.
About Loopio
Loopio's RFP response software helps more than 1,300 world-leading companies streamline their response process and unleash their growth. They've ranked twice on the Deloitte Technology Fast 50™ list and were selected as one of LinkedIn's Top Startups in Canada for two years in a row. With Loopio, teams can respond faster, improve response quality and win more business.