remove_red_eye

821 views

comment

0 comments
Here's the scenario: You are reviewing the award letter for one of your contracts. It is a notice that another company won the bid. You think:
"How did this happen? We had a great proposal and a great price. Sure, there were a few issues with deliverables, but the new project manager fixed that. And the client's contract manager was a little cool to the team when he first started, but he seemed to come around. How could we lose?"
Incumbents have advantages in rebids of knowing the client and the scope of work. They also have a disadvantage: The client knows the history of their relationship and performance.
Rebid Value Matrix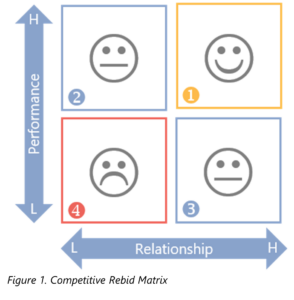 There are two main dynamics of rebid retention: performance and relationship. They work together to position your company as a high-value candidate — or they work against you to open the door to your competition. Together, these two dimensions create four quadrants of a competitive rebid matrix (Figure 1) that can and should inform your rebid strategy:
High performance, high relationship: Your track record and connection to the client give you the advantage in the rebid.
High performance, low relationship: Missing a client connection presents a risk to the benefits of your performance.
High relationship, low performance: Issues with performance create a risk to the benefit of your connection with the client.
Low relationship, low performance: A troubled contract history and poor client relationships put the rebid at risk. Your competitors have the advantage here.
Ask yourself the following questions about performance and relationships. The answers will help you figure out which quadrant represents your contract's chances.
Performance: Compliance + Requirements
Your compliance with requirements defines your performance as a contractor. Consider these questions to identify risks to rebid success:
How did start up go? Were there issues? How quickly did you resolve them?
Are your deliverables timely, complete and accurate? If there were issues, how quickly and effectively did you resolve them? Did they resurface after time?
Did the client abandon any requirements because there were issues with meeting them?
Clients have long memories and high expectations. A poor implementation can be forever if your company struggled and failed to recover quickly. Late or incomplete deliverables create a burden on the client: review, return, re-review. Was your company agile in meeting contract requirements, even if they evolved past original specifications? Did you miss requirements and need extra time to fulfill them? Your change process — was it expensive and burdensome?
Or could your client rely on your company to meet its requirements, the first time and every time? Did they expect timely deliverables and use them to manage the program? A positive answer to these questions can position your rebid to succeed.
Relationship: Connection + Trust
Compatibility with your client's personnel is a benefit. It improves communication, facilitates consensus on important decisions, and increases access to clients for discussion and planning. A strategic relationship goes beyond just a cordial reception. Ask yourself these questions about the relationship with your client to understand how it will affect your rebid:
Were there significant changes in staffing during and/or after implementation in your company and/or the client's staffing?
If there were changes, did you request client input on new staffing, even if the contract did not require it?
Did your client call on your team for ideas and opinions to improve the program or product? Or did they make decisions and notify you afterward?
A good team is hard to find. If your team experiences friction with the client or just fails at good customer service, your rebid is at risk if you do not resolve the situation. If, instead, you invest in a relationship with clients, they will treat you as a trusted partner and ensure you are part of their decision-making and future work. Take time to understand the larger goals of their department or program beyond your immediate contract. How can you advance those goals?
So, What Do You Do? Start Yesterday.
Assess your status. Are you in Quadrants 2-4 of the rebid matrix? Were you in Quadrant 1 but realize your position slipped? Address any performance issues first. Compliance is the foundation on which you build your competitive recovery. Reevaluate deliverables in terms of timeliness, clarity and completeness. Bring every deliverable into compliance with requirements — every deliverable.
Once you can document substantial improvements in performance, address relationship issues. Step one is to provide concise, no-blame documentation of improvement. Summarize your review of deliverables and the improvements in terms of their benefit to the client. Share it with the client.
For step two, think of ways to provide value-added information and recommendations to improve the usefulness of your contract. How can you make it easier for your clients to do their jobs? Think of reducing administrative burden, and then reduce it. Step three: Meet with the client to review your improved performance, ask for feedback and use it. Then do it all again. That day your client calls you for help on an issue? You know your efforts were successful. Keep it up.
Remember: Clients are not seeking a best friend; they value a partner who understands what they need to accomplish and contributes to achieving it.
Now, go win that rebid.
---
Cynthia T. Weinmann, MS, CP APMP, has 35 years of experience with successful state, federal and defense proposals. She founded Strategy Horizon Consulting in 2015 to help clients integrate strategic solutions with compelling content. A Wilmington University graduate with a master's in public administration, Weinmann received the Campbell Award for academic and professional achievement.