More than 700 people gathered online to participate in 25 hours of learning and making connections with colleagues from around the globe. BPC Global, held Oct. 28, offered exclusive content on managing processes, leadership and professional development, and all aspects of winning business, presented by the industry's leading experts and APMP's top thinkers. Attendees bonded during happy hours and game sessions (via computer screen), shared their methods for managing life during a pandemic and offered each other support for navigating these challenging and unique times.
There is much to glean from each session and each networking event (and so many nuggets left in the chat), but here are five key takeaways from BPC Global's most well-attended sessions to help you get started.
Get Rid of the BS (Keynote)
Presented by Charisha Grant
Session description: Motivated by her passion to recognize her own BS and correct societal "-isms" like racism, sexism, classism and plain old stupid-ism, it is Risha Grant's personal mission to expose the value of diversity and inclusion, while shining a light on the economic impact it creates.
Key takeaway: "Diversity is all about you. Inclusion is all about us."—Risha Grant
In her keynote presentation on understanding and getting rid of our unconscious biases, Grant laid the foundation for her message by explaining the difference between diversity and inclusion — diversity being all the elements that make us different (our ethnicities, religion, physical abilities, etc.); inclusion being how we "invite, involve and engage" those we work with. Grant explained that inclusion is the area in which people need to do more work — work that includes "unpacking your boxes," building authentic relationships, questioning your assumptions, being intentional and challenging your microaggressions.
2020: The Year that Changed Everything
Presented by Jon Williams
Session description: A quirky, but ultimately serious, view of the impact of the pandemic on the bid and proposal profession.
Key takeaway: "My purpose in presenting this set of vignettes from my coronavirus scrapbook … has been to make some observations in the hope that some might provoke new ideas and others give you confidence to keep going down paths you're already treading because one thing's for sure: After 2020 — the year that so unexpectedly changed everything — business isn't as usual."—Jon Williams
Williams provided insights around 16 main topics, in the format of clever hashtags, on how bid and proposal professionals can sustain themselves and their work during the coronavirus pandemic. He advises to #BeMoreNerd (or be "really brilliant" with your organization's tech during these virtual times) and to #CherishTheGood (or refuse to lose sight of the good things), in addition to #EmergeStronger and, of course, #LoveMyCat.
Winning Business While Working Remotely (Panel)
Presented by Beth Wingate, Jeremy Brim, Lee Coogle and Fergal McGovern
Session description: Where remote working was once an option or novelty, we all find ourselves today in an environment where remote work or working with others who are remote has become an absolute necessity. Learn about current trends and best practices, as well as pitfalls and new solutions emerging faster than ever.
Key takeaway: "[Transitioning to remote work will] absolutely be a good thing. Take advantage of the technology that's available to us. The companies that are able to pivot toward the new technology and the new environment … are the ones that are going to succeed."—Lee Coogle
This panel explored what teams need to consider as more people move to a remote work environment, such as increased and improved collaboration, excellent time management and consideration of team members in different time zones, and the ability to be flexible, adaptive and a self-starter. The overarching theme was that the processes and practices that worked in the past may not work in this new normal, and the organizations that realize this sooner will be the most successful during this time and after.
How to Turn Around a Losing Proposal
Presented by Ajay K. Patel
Session description: This session will offer guidance on what to do when you find yourself in the unfortunate situation of a proposal that all instincts are telling you is deeply in trouble.
Key takeaway: "Your profession is more than the application of best practices in a process. It's also about your contribution and your understanding of the strategy and how you execute that strategy in a proposal. It's about really understanding the process, not from a mechanical perspective, but from how you use the process and apply the process in the situation you're in, and it's about priorities [and behaviors] and your role and how you actually get a team who can win."—Ajay Patel
Patel presented a case study on turning around a challenging proposal, and he offers 15 pieces of advice on developing a solution when faced with a similar situation. This guidance is grouped into three sections: build a new foundation, smart strategic execution and do things differently.
When Best Practices Go Wrong in the Real World
Presented by Heather Finch and Christine Sowinski
Session description: Proposal best practices look great on paper, but here in the real world, it's not always that easy. This session looks at what happens when best practices fail and how we can fix it for the future.
Key takeaway: "What's important is leaning on best practices and adapting them to find processes that work for your organization. And then, of course, consistently reevaluating your processes to make sure they are best meeting the needs of an ever-changing industry."—Heather Finch
How to best manage proposals depends on various factors, including your company, industry and the types of bids you work on — whether it's big proposals with longer lead times or smaller ones with tighter deadlines. Finch and Sowinski compare notes on the best practices and processes they use within their respective organizations and offer insight on team communication, kick-off meetings, standardization, reviews and more.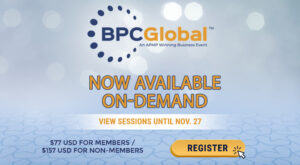 If you missed BPC Global in October, you can still view all sessions on-demand until Nov. 27. Register now for as low as $77 to access the content.